CONTACT:
Regan Communications
Alison Krawczyk / akrawczyk@regancomm.com / 617.488.2891
Joanna Roffo / jroffo@regancomm.com / 617.488.2852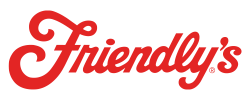 \
Friendly's cheers on New England's favorite team with "Patriots Win – You Win" promotion
WHAT:
Friendly's brings back the "Patriots Win – You Win" promotion at select Friendly's locations in Connecticut, Maine, Massachusetts, New Hampshire, Rhode Island and Vermont. Friendly's will treat ice cream-loving fans to a free medium sundae the day after a New England Patriots victory.

Every time the Patriots defeat their opponent, the beloved ice cream shop and restaurant will celebrate the day after by treating fans to a free medium sundae with any adult entrée purchase. Delicious entrée options at Friendly's include the Cheesycado Turkey Melt, Philly Steak & Cheese SuperMelt® Sandwich or New England Fish 'N' Chips. The promotion excludes CombOH!s.

Friendly's encourages families to celebrate New England's favorite football team by inviting them to take part in the team's victories with this in-store promotion throughout the 2018 football season.

For more information and to inquire on whether or not your local Friendly's is participating, please call your favorite Friendly's restaurant directly.

WHEN:
The day following a win by the New England Patriots. Promotion is valid all day.
WHERE:
85 participating Friendly's restaurants throughout New England.
About Friendly's Ice Cream, LLC:
FIC Restaurants, Inc. is a restaurant company that operates under an iconic brand name (Friendly's), serving signature sandwiches, burgers and ice cream desserts in friendly, full service restaurants. Together with its franchisees, the company had system-wide sales of over $273 million in 2017. For over 80 years, Friendly's restaurants and their dedicated service teams have delighted generations of guests by offering every day value on great tasting food and ice cream creations. For the future, Friendly's has plans for introducing new and innovative food and ice cream offerings, bright new restaurants, and unique ways to reach and satisfy guests. For additional information please visit www.friendlys.com.