MEDIA CONTACT:
Regan Communications
Skye Stewart – sstewwart@regancomm.com / 617.488.2891
Alyssa Stevens – astevens@regancomm.com / 617.488.2882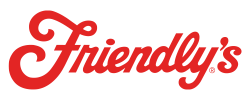 Every Tuesday, enjoy a different Friendly's menu item for JUST $2.00!
WHAT: Every Tuesday this summer, Friendly's is excited to offer its loyal customers fan-favorite treats for just $2.00! Starting June 5th through August 28th, guests are invited to stop by a participating Friendly's location to enjoy various entrees and ice cream creations, such as cheesy Mozzarella Sticks, a classic Crispy Chicken Sandwich, or creamy Double Scoop Cone for a discounted price. Every Tuesday, a different Friendly's menu item will be available for $2.00, so guests can enjoy a NEW exclusive savings, week after week.
After a day spent at the beach or summer camp, Friendly's invites guests to enjoy a delicious, wallet-friendly meal at their nearby, participating Friendly's location. There's no better way to enjoy your summer than with a $2.00 tasty favorite every Tuesday!


$2 Tuesdays Schedule:
June 5: Medium Sundae
June 12: Quarter Pounder with Cheese
June 19: Double Scoop Cone
June 26: Kids' Meal
July 3: Friend-z
July 10: Mozzarella Sticks
July 17: Medium Sundae
July 24: Quarter Pounder with Cheese
July 31: Double Scoop Cone
August 7: Crispy Chicken Sandwich
August 14: Medium Fribble
August 21: Mozzarella Sticks
August 28: Medium Sundae

WHEN: June 5th- August 28th

WHERE: Participating Friendly's locations.

COST: $2 for select meal or dessert.

MORE INFO: No coupon required. To confirm participation, please call your local Friendly's restaurant.

About FIC Restaurants, Inc.:
FIC Restaurants, Inc. is a restaurant company that operates under an iconic brand name (Friendly's), serving signature sandwiches, burgers and ice cream desserts in friendly, full service restaurants. Together with its franchisees, the company had system-wide sales of over $273 million in 2017. For over 80 years, Friendly's restaurants and their dedicated service teams have delighted generations of guests by offering every day value on great tasting food and ice cream creations. For the future, Friendly's has plans for introducing new and innovative food and ice cream offerings, bright new restaurants, and unique ways to reach and satisfy guests.  For additional information please visit www.friendlys.com.